By Mitchell Parker, Houzz
Looking for a garage structure to replace a grassy lot and provide storage and hangout space, these homeowners reached out to designer-builder Keith Vaughan for help. He designed a quaint, jewel-box-like single-car structure with smart storage solutions such as automated platforms that can rise to the ceiling with the push of a button. Meanwhile, a pitched roof allows clerestory windows that bring in natural light, making the new garage a well-lighted yet shady hangout area during sports games.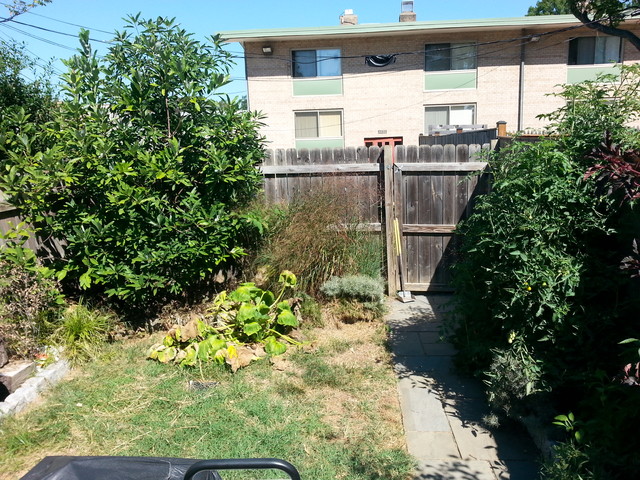 Garage at a Glance
Location: Capitol Hill neighborhood of downtown Washington, D.C.
Size: 16 by 20 feet (4.9 by 6.1 meters)
Designer: Keith Vaughan of Spectrum Design + Build
BEFORE: This photo shows what the small backyard previously looked like from the row house. The homeowners didn't have a garage and instead had to park their car in a grassy lot in the alley on the other side of the fence shown here.
They wanted a contemporary garage structure that wouldn't conflict with the mostly historic style of homes in the neighborhood, and they wanted it to offer storage but also shady space to enjoy on hot, sunny days.
They also had another request: Save the existing magnolia bush, seen here in the rear left corner of the yard.
AFTER: With the fence removed, the new single-bay garage now occupies the back lot. Two sliding glass doors allow the structure to be used as a shady hangout space when the car is parked in the alley.
Simple Hardie board-and-batten siding above an awning gives a bit of texture and interest to the exterior.
Inside, two motorized platforms on pulley systems help make use of the high ceiling space while keeping things such as luggage and supplies accessible. The homeowners use one of the yellow handheld controllers to raise or lower the platforms as needed.
Vaughan left the rafters exposed and painted them black, a style that reminded the homeowners of a brewery trip they took to Colorado.
Standard garage-grade cabinetry and a work bench take care of essential tools and other gear.
A painted and coated concrete floor transitions to pavers that connect the backyard to the home. A TV on the work bench lets the homeowners watch sports and other shows during parties.
A sloped roof allows for south-facing clerestory windows to provide natural light.
In addition to the platform storage, the vertical bike rack and slim cabinets help keep floor space open.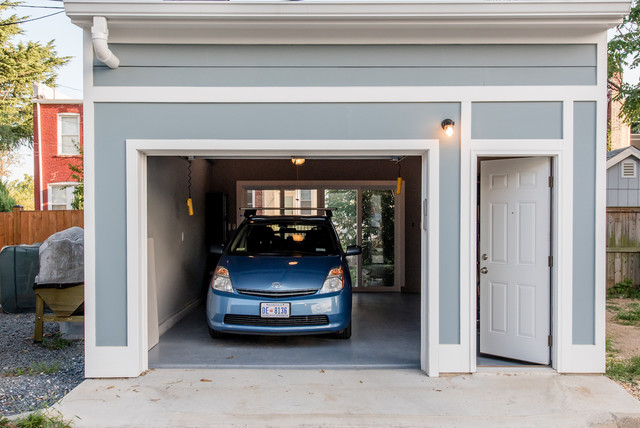 Looking at the garage from the alley, the unimposing structure provides all the storage and hangout space the homeowners needed — with a bit of style.
How could a garage update improve your home? Let us know in the comments below, and find an Amarr dealer near you to help your garage dreams become a reality with a new Amarr garage door!
Architectural designers: Spectrum; structural engineer: APAC Engineering, Silver Spring, Maryland
Related links:
Collaborate With a Professional on a New Landscape Design
How to Put the Ancient Pulley System to Work in Your Home
Extend Your Outdoor Living Space With Help From a Deck Builder